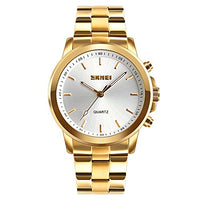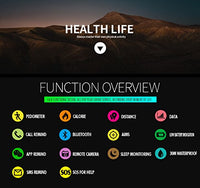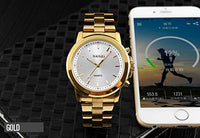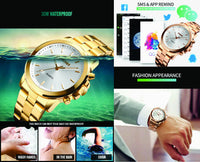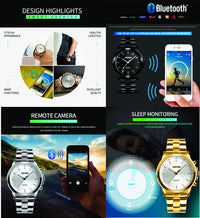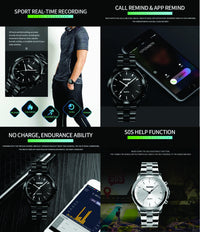 SKMEI Stainless Steel 30m Waterproof Analog Gold Smartwatch
Brand: SKMEI
Color: rose
Features:
Sport real-time recording: 24 hours activity tracking, accurate records of each action, including the movement distance, time, calories burned, activity, a complete record of your daily activities
Call and app notification: watch with push calls, SMS push, and all kinds of social application push, whenever there is a push reminder, the corresponding icon will flash and beep
Sleep monitoring: Intelligent tracking and analysis of your night-time sleep quality, tracking the length and depth of sleep, provide valuable guidance
No charge, enduring ability: this watch does not have regular charging, endurance, use more convenient
Publisher: SKMEI
Details: SKMEI 1324 SMART WATCH - ORIGINAL

Function Overview: Pedometer, Calories, Distance, Data, Call remind, Bluetooth, AIMS, Low Battery Indication, App Remind, Remote Camera, Sleep Monitoring, 30M Waterproof, SMS Remind, SOS for Help.

SPORT REAL-TIME RECORDING: 24 Hours Activity Tracking, Accurate Records Of Each Action, Including The Movement Distance, Time, and Calories Burned, Activity, A Complete Record Of Your Daily Activities.

SOS Help Function: When Using The SOS Assistance Function, The Connected Mobile App Automatically Mails The Help Address To The Added Mailbox.

SLEEP MONITORING: Intelligent Tracking and Analysis of Your Night-time Sleep Quality, Tracking the Length and Depth of Sleep, Provide Valuable Guidance.

CALL & APP NOTIFICATION: Watch With Push Calls, SMS Push, And All Kinds Of Social Application Push, Whenever There Is A Push Reminder, The Corresponding Icon Will Flash And Beep.

NO CHARGE, ENDURING ABILITY: This Watch Does Not Have Regular Charging, Endurance, Use More Convenient.

WATER RESISTANCE: This watch can meet your daily use water proof. 30m Waterproof. Life Waterproof (not for shower, swim, dive)

Weight: 134g

Movement: Quartz + Electronic

Mirror: Glass

Case: Zinc Alloy

Band: Stainless Steel

Buckle: Stainless Steel

NOTE: We promise the authenticity of every SKMEI Watch we sell. When you're buying from The Global Stocks, you are purchasing 100% guaranteed authentic SKMEI watches.


Package Dimensions: 3.1 x 3.0 x 3.0 inches