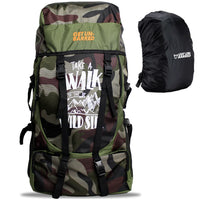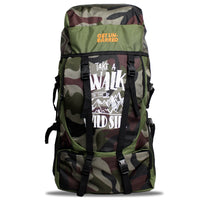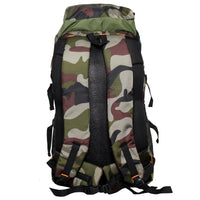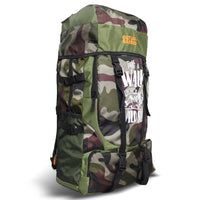 Get Un-barred 55 Ltr Travel Backpack (Camo-Green)
PRODUCT DESCRIPTION 
* ROOMY ENOUGH

 

: GET UN-BARRED bags is ultra lightweight comes with one main compartment having the capacity of approx 55 Ltr, big enough to carry 17 inch laptop, books, clothes, camping gear; with front pocket, top zipper pocket and two side net pouch pockets along with two adjustable compression straps above in order to adjust the width of the bag as per your requirement. Makes it a perfect Day Backpack
* SHOE COMPARTMENT

 

: This bag having a SEPARATE SHOE COMPARTMENT attached in the front just below the upper front pocket which is quiet big to put a pair of shoes very comfortably without having second thinking about your these types of belongings.
* ADJUSTABLE BELTS

 

: This Backpack comes with tactical military style 8 adjustable straps which all helps you be very comfortable while travelling. Padded waist belt along having sufficient length, width of 8 cm with attached adjustable buckle which is comfortable enough to fit on your waist for better balance while travelling.
* PADDED BACK STRAPS

 

: Backside Honeycomb padded structure which helps you travelling comfortably all day long, provides proper air circulation while in summer also to prevent you feel more relax."S" Shaped Straps structure which fits on your shoulders very comfortably, having the width of 7 cm. Backpack bottom bag stud made of rubber act as guard for your bottom surface and also makes the vertical structural loads of the bag evenly distributed.
* MULTIPURPOSE RUCKSACK

 

: Good to go for hiking, trekking, overnight trip, camping or biking. Men & women can use this Heavy Duty Hiking Backpack for Travelling, hunting, camping, trekking. This rucksack comes with outer and inner polyester fabric which is water resistant.
SPACIOUS HIKING RUCKSACK
HIKING BAG WITH LARGE CAPACITY
The 55 liter capacity is spacious and can accommodate your hiking gear and belongings with ease. The broad, adjustable straps distribute the weight evenly on your shoulders which allow for a comfortable trekking experience. The front compartments can be used to store your essentials which facilitate easy access.
KEY FEATURES
CLOSING CAP
This .rucksack is equipped with a Cap closure which keeps your belongings safe and securely stored while you are on the move.
SPACIOUS CAPACITY 
This polyester rucksack has a spacious capacity of 55 liters which lets you store all your trekking gear in an organized manner.
SHOE COMPARTMENT
This bag has a large shoe compartment for your shoes that helps you in efficiently access of your items without any hurdle.
WATER RESISTANT
The water-resistant polyester fabric protects your belongings from adverse weather conditions while you are trekking or hiking.
EASY TO CARRY AND USE
This rucksack is a perfect travel essential for hiking, climbing, biking, and camping. Sufficient small and large pockets in this rucksack can easily hold all your hiking and travel gears.
OTHER SPECIFICATIONS
POLYESTER MATERIAL
The rucksack is made from polyester fabric, which provides strengthen and long-lasting performance.
RUNNER
Easy to open the zip with long string runner.
ADJUSTABLE STRAP & MESH POCKET
This rucksack comes with a separate mesh pocket to store your bottle securely while you are trekking or hiking.This ergonomically designed rucksack comes with broad adjustable straps which evenly distributes the weight on both your shoulders.
DIMENSIONS
This rucksack bag offers a carrying capacity of 55 litres. This lightweight bag weighs only 330 gram.
Length - 32 cm
Width - 24 cm
Height - 65 cm
PRODUCT HIGHLIGHTS
HOW MUCH LOAD CAN I PUT ?
This bag can easily carry the load of 7 Kg. Avoid putting heavier load or extremely sharp item inside the bag to avoid getting damaged.
WHEN CAN I EXPECT MY DELIVERY?
 We offer value for money product at very affordable price. Therefore instead of shipping our product by air we shipped them by surface. Hence we are able to deliver between 3-7 days. To the most of the Indian destination. Please note in case of certain remote areas of the country the delivery times could extend up to 10 days. We appreciate your patience and value your relationship with us. Once you place your order, you will be notified about the updates & tracking details via a text message. You may also opt to receive order status updates via messenger at the time of checkout. To opt in, simply click the 'Send me Updates' button of Facebook messenger. 
IS THERE ANY WARRANTY ON THIS BAG? 
Yes, we offer replacement & repair warranty valid for the 6 months from the date of purchase. Retain the invoice in order to claim the warranty. Please contact us via m.me/mufubu for any concern. Please note that the warranty is limited to the quality issues like improper stitching, fabric problem and manufacturing defects, like missing zipper etc.


REAL PRODUCT PICTURES FROM OUR CUSTOMERS